Welcome to Visingsö ESSI
This airport was in the 30's one using the airports in the flight path Stockholm – Malmö. Although the field have long been abandoned, it is a well-preserved airfields with guard room, wind-T, boundary markers, etc. We Jönköping Flying Club welcome you to this historic and idyllic location. We hope you enjoy your stay and come back often.
Jönköping Flying Club since 1991, manages the operation of the field. This is subject to certain costs, such as maintaining good standards of field surfaces with cutting etc. Aerodrome Society Visingsö gratefully accept your contributions in the form of a token for you landing fee of 100 SEK ( 10 € ). Of course it is allowed to contribute more.
Please use the payment form found in the mailbox at the clubhouse.
Bankgiro 786 – 5512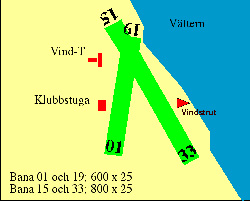 | | |
| --- | --- |
| For field control ring | |
| Jönköpings Flygklubb | 036-680 70 |
| Jönköpings flygplats ESGJ TWR | 036-31 12 20 |
| Mikael Svedbom | 070-749-36-52 |
| Ralf Haglund | 0709-40 18 81 |
| | |
| | |
Service
Bus (by request)
020 777 666
Bicycle Rental
field
Beach
next
Where to stay
Camping and cabin rentals.
For the loan of cycle and / or overnight in the clubhouse, contact Michael or Ralf.
Golf Course
on / in the field
Convenience store
4 km, 0390-405 83
Country store
7 km, 0390-400 36
Tips
Take a bike at the clubhouse. Take you down to the harbor where you can take a walk. Look at the castle, eat dinner, or just take a drink. It includes the Piri Piri with asiatmat and Restaurant Solbacken with good pizza.
If you wish to share, it is possible to rent the clubhouse where there are four beds, kitchen, toilet and shower.
Restaurant Solbacken
Vard 10-20 Weekend July 10 to 22 Mond 10-20 rest.10-22
Piri Piri
Vard 11-22 Friday-Saturday 11-01
Cottage Ralf call 0709 401881